C.H. PAVING
—
Asphalt Milling &
Road Milling
We now offer Road Milling & Asphalt Milling Services
ASPHALT MILLING & ROAD MILLING
We now offer Road Milling & Asphalt Milling Services
CH Paving's Road Milling and Asphalt Milling services are a method of removing the top layer of asphalt from most asphalt surfaces commercial or residential. Including roads, parking lots, driveways etc. We use a special asphalt milling machine to safely and effectively remove the top layer of asphalt.
Driveways and parking lots
(residential and commercial)
Lower cost – less expensive to repave
Less Stress on Foundation
Pavement removed can be very precise
Reduced use of natural resources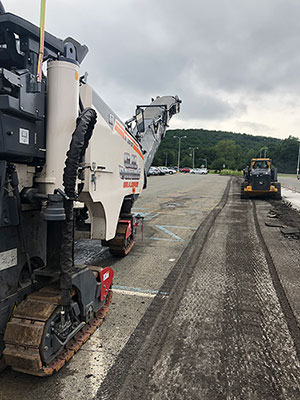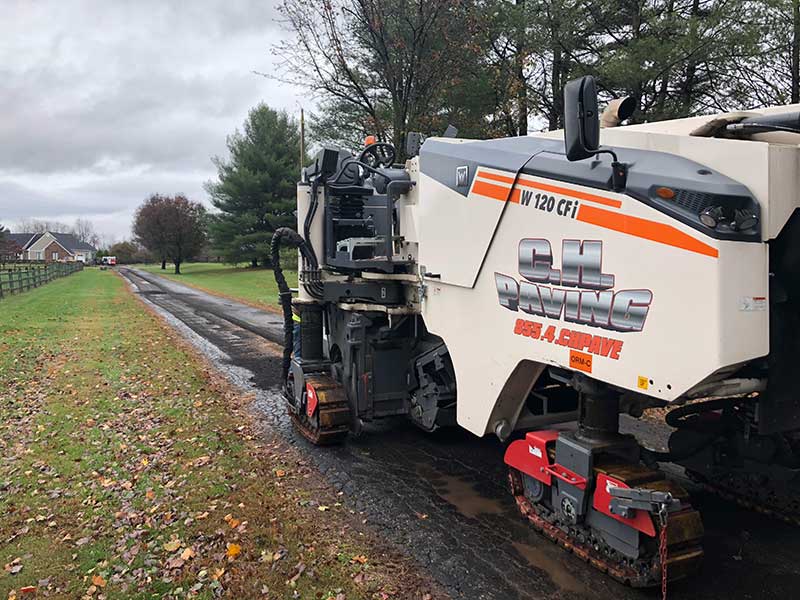 Asphalt Milling & Road Milling
R

oad Milling Machine Rentals 
We offer day rentals on road our road milling machine. Please contact our office for day rentals and options.  Operator included in rentals.

Benefits of Asphalt Milling or Pavement Milling?
The materials that are milled are 100% recyclable. Milling does not disturbing the compacted sub-base. The milling process will preserve the elevations, grade and revels of the curb line after paving. Milling removes the chance of cracks reappearing on the new service.

What is Asphalt Milling or Pavement Milling ?
Asphalt milling (pavement milling, road milling, cold planing, or profiling) is the process of removing part of the top section of a paved area on a driveway, road, bridge, or parking lot. Milling can remove just enough thickness to level and smooth the surface or a full-depth removal.
How does a Road Milling Machine Work?
Milling machines employ a large, rotating drum that extracts and grinds the surface of the asphalt. The carbide cutters are positioned in such a way that after being sheared, the pavement is mechanically moved to the center of the drum. The pavement is then placed onto a conveyor belt attached to the milling machine and loaded into a dump truck.
FULLY INSURED
All of our employees are fully insured.
REFERENCES
Go ahead… CHECK US OUT! Click the logos below to view our Better Business Bureau accreditation or our reviews on Angie's List…
References available upon request.
C.H. PAVING
Asphalt Paving Services, Driveway Maintenance, Sealcoating
BUYER BE AWARE
ASK QUESTIONS.

  "Factory Authorized"


  "Certified," "Licensed"


  "Guaranteed"
…are all terms found in ads that need to be questioned and understood. Licensed and certified by who? What protection does the guarantee offer?
Find out before you act.