C.H. PAVING
— Asphalt Paving Services
Asphalt Paving, Driveway Maintenance, Dumptruck Services
ASPHALT PAVING SERVICES
Residential & Commercial driveway, parking lot & more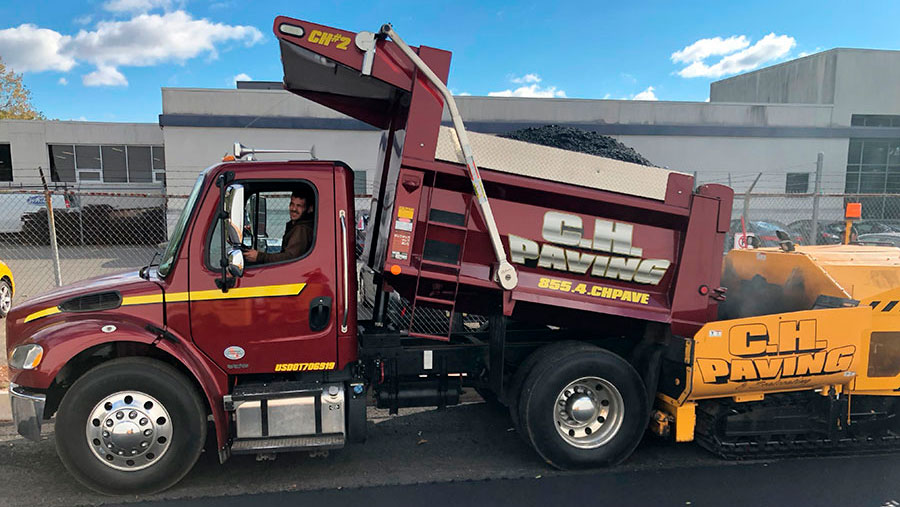 CH Asphalt Paving Services has been in business since 1984. The owner was raised in the asphalt paving business. He was taught by his father who had been in business since the 50's. Through a combination of state of the art technology and good-old-fashioned pride, CH Paving is able to provide it's customers with only the best in asphalt paving, road milling, and asphalt milling work. Our customer referrals speak for themselves. CH Paving has been serving Hunterdon, Warren and surrounding areas since 1984.
Driveways
Parking Lot Paving
Tennis Courts
Golf Course Cart Paths
Walking Paths
Development Streets and Sub-Divisions
Line Striping of Parking Lots
Installation and Repairs of All Types
Playgrounds
Bicycle Paths
Running Tracks
Work Sites
Asphalt Milling Services also available
If you have been complaining about your split, cracked, disintegrating driveway or parking lot, asphalt black-top is the material you need for a flexible, cost effective and fast, beautiful new driveway or parking lot. This is not equivalent to black top sealant, which is a covering used to revive existing black-top commonly called sealcoating. CH Paving can also provide sealcoating services. Asphalt black-top is one of the most popular paving materials, alongside cement, and offers reasonable durability at an appealing cost.
What Is Asphalt Paving (Black-top)?
Asphalt driveway and parking lot material is similar to what you see road crews appling on roads. It is also called hot mix or hot mix asphalt, it is an aggregate of stone and sand, along with a thin mixture of asphalt, a tar-like material made from petroleum. The asphalt is heated to a high temperature to liquefy it. Asphalt contractors have to work with it swiftly before the mix solidifies.
Hot mix is not driveway sealant or crack sealant. These are nothing more than surface treatments for repairing or renewing worn, or deteriorated asphalt driveways. Some asphalt patching materials are related to hot mix but are not heated prior to application and cure differently from hot mix.
Although homeowners can repair or reseal an asphalt driveway, installing new asphalt paving is not a do-it-yourself job.
Options for Asphalt Paving Base
An asphalt driveway or parking lot is only as sound as its base. Installing asphalt on an unstable base can develop issues and problems quickly. There are three primary options for base installation:
1) Installing asphalt paving over existing driveway or parking lot: If your current driveway or parking lot is in decent condition and is not badly cracked or crumbling, hot mix asphalt paving materiaL can be applied right on top of your driveway or parking lot. One concern is height: Make sure that fences, garage floors, and other structures will not be affected by the higher level of the new asphalt surface.
2) Remove old driveway or parking lot and pave asphalt on soil: The existing driveway or parking lot is completely and thoroughly removed (or you may not even have an existing driveway or parking lot) and 4 to 6 inches of hot mix asphalt paving is applied directly on the soil.
3) Remove old driveway or parking lot and pave asphalt on aggregate base: This is the preferred method. An aggregate stone base partly replaces some of the hot mix asphalt. Normally 6 to 8 inches of aggregate go below 3 inches of asphalt.
Asphalt Paving Installation
Once the base preparation is finished an average driveway or parking lot may begin looking like a completed product in as little as 40 minutes. Although a little more time will be needed to compress the asphalt. After this, the asphalt (Black-top) needs to harden. Under standard conditions you will be able to drive on the driveway or parking lot within two to three days, it can take 30 days or more for asphalt (Black-top) to completely harden and cure. During that time, you can use the driveway or parking lot normaly, but you should be careful to avoid scuffing the surface with car tires (by turning too sharply) and other common causes of damage.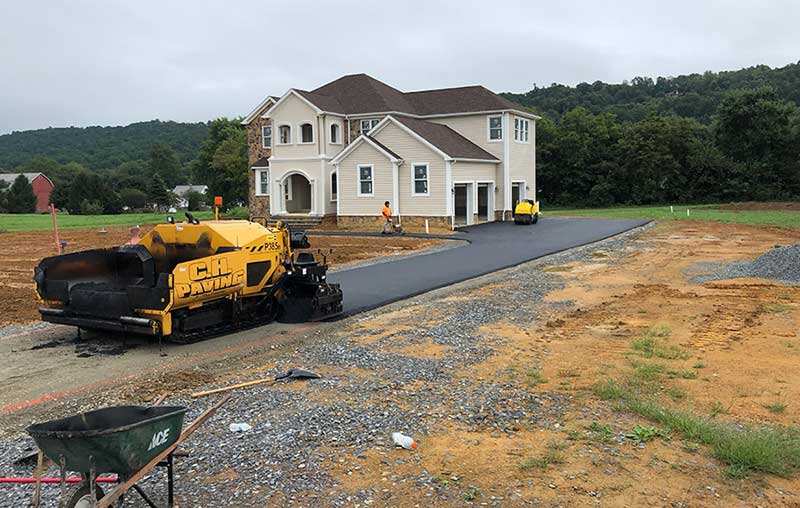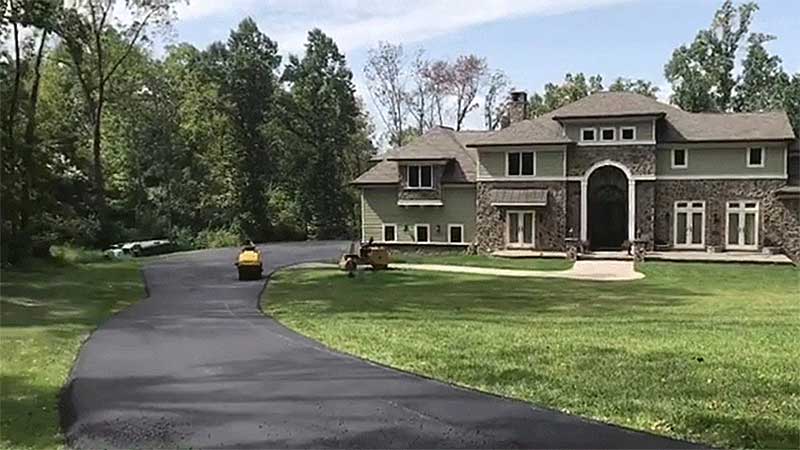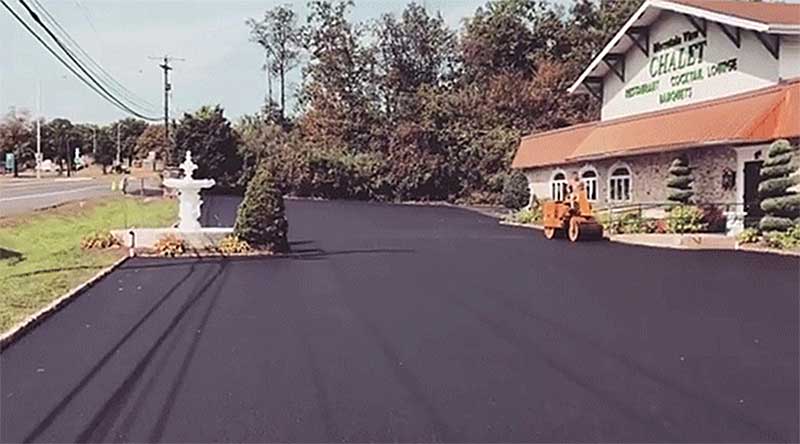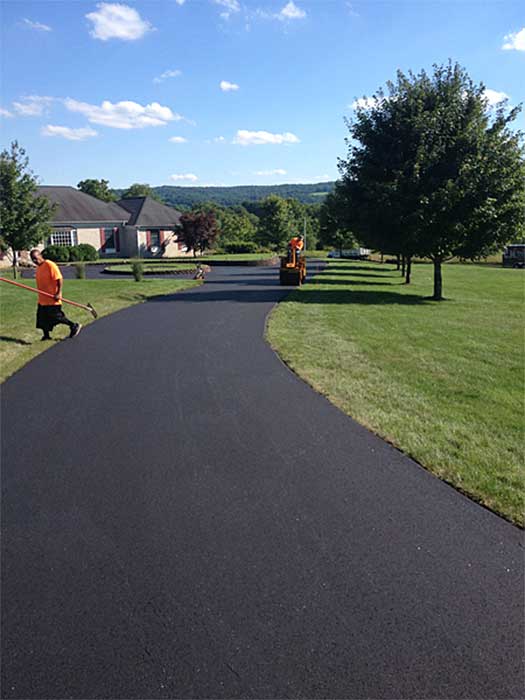 FULLY INSURED
All of our employees are fully insured.
REFERENCES
Go ahead… CHECK US OUT! Click the logos below to view our Better Business Bureau accreditation or our reviews on Angie's List…
References available upon request.
C.H. PAVING
Asphalt Paving Services, Driveway Maintenance, Sealcoating
BUYER BE AWARE
ASK QUESTIONS.

  "Factory Authorized"


  "Certified," "Licensed"


  "Guaranteed"
…are all terms found in ads that need to be questioned and understood. Licensed and certified by who? What protection does the guarantee offer?
Find out before you act.